Triple C Training
Our training program is well rounded with over 50 years of combined experience! Leandro and crystal are highly regarded in all disciplines of riding and look forward to taking you and your horse to the next level in the show ring, up in the hills or to achieve a personal goal! We can teach you and any breed of gaited horse you have in: Western Pleasure, Gaming, Working Cow, and Gaiting Correctly. Through our training process your horse gains many hours of experience which is a major part of the foundation and confidence building we believe all horses should have and the horses enjoy it!
Our goal for you and your horse is increased confidence, developing a better seat and balance in the saddle, and lighter hands and aides for your horse. Trailer loading, clipping and bathing are just part of the daily routine.
Training requires a 60 day commitment to get started and starting the second month of training you receive 3 free lessons per month!
Pricing:
Training (5 days a week with board and hay): $900
Lessons: $45/hour
Consultation*: $125
*Rider Assessment: posture, seating, hand control, balance; Horse Assessment: shoeing, gait, balance, head set; Tack Assessment: saddle fit, bit.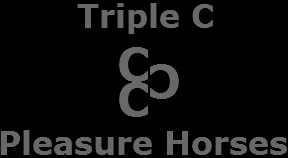 Whatever you do in life, enjoy the ride
Triple C - Latest News
Agreement reached to protect 43,000 acres of white River Forest land ...Way to go King county and EFFRA

Visit Effra's Site
---
Pay online for services
Please put the service you are paying for in the description field.