Triple C Lessons
Triple C is proud to offer horse riding lessons for all ages and experience levels and can provide a horse for you to learn on if you don't have one! We are very friendly and love to teach people how to properly ride a horse. Some of the basics we teach:
How to be a rider not a passenger
How to communicate with your horse
How to handle the way your horse is acting
How to saddle and maintain your horse
Lesson Fee Schedule:
1.5 Hour Group Lesson: $45
1 Hour Private Lesson: $45
Additional 30min: $15
*Pay attention to your lesson time, time includes grooming, saddling, riding and untacking.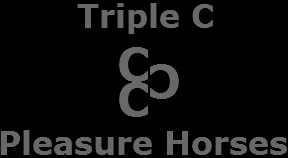 Whatever you do in life, enjoy the ride
Triple C - Latest News
Agreement reached to protect 43,000 acres of white River Forest land ...Way to go King county and EFFRA

Visit Effra's Site